Go back to ObjectJ Examples
SporeTrackerB
14-nov-2019
An ImageJ + ObjectJ project to analyze fluorescent proteins in germinating spores
The germination of bacterial spores is analyzed in time, including the bright-to-dark transition(phase-contrast channel) and development of germinosomes (fluorescence channel). All movies linked to the project file are assumed to belong to the same population.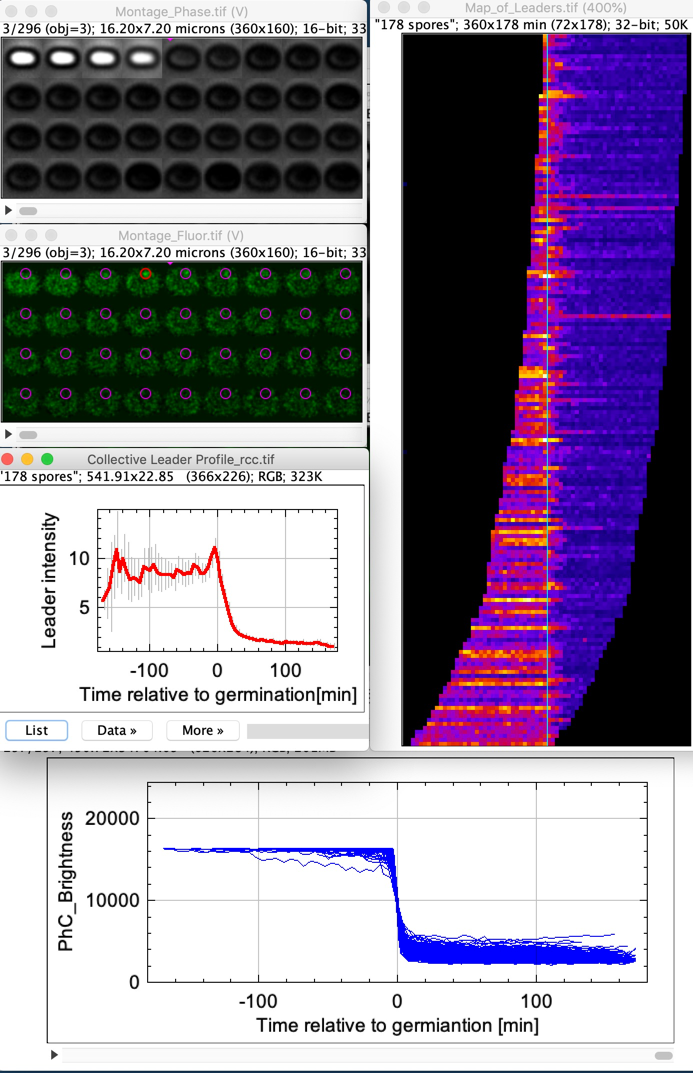 Fig 1:
Montage_Phase: Shows bright-to-dark transition (36 shapshots, interval = 5 min)
Montage_Fluor: Shows fluorescent germinosome in time, strongest spot is called "leader"
Phase_Plots: Stack of plots showing collective and individual phase profiles
Map-of-Leaders: Shows the fluorescence at the leader positions of the entire population during the entire time. Each leader profile is accommodated in one pixel row, sorted from early to late germination. The vertical cyan line is the time point of germination.
Collective Leader Profile: Vertical average-projection of the Map of Leaders
---
Preparation
make sure ImageJ is open and ObjectJ plugin is installed
optionally, download demo_movies, containing hyperstacks (2 channels, 36 frames)
download SproreTrackerBxx.ojj and place it in the folder containing the movies to be analysed (here: demo_movies)
from there, open SproreTrackerBxx.ojj by dragging it into the ImageJ main window (containing the tools), or use File>Open..
Choose menu ObjectJ>Linked Images>Link All Images from Project Folder
Analysis
Here is a list of the relevant commands under ObjectJ menu. You can directly execute menu:
ObjectJ>Batch (all above)
which executes all commands above it serially and full-automatically, so you don't need to call those individually. Then choose one of the Plot, Map, Histogram or Navigate menu items
Mark Spores
In all linked images, bright spores are marked in with a central marker in phase contrast (channel 1, frame 1)
Delete Neighbors
This deletes close neighbors (<1 um contour distance)
Germination Plots
Calculates the time point of germination, and creates a plot family of all spores
Make Montages
Creates two montage stacks (phase contrast and fluorescence). Each object (spore) is represented in either stack by one stack slice as a 9 x 4 matrix, representing the spore history as 36 snapshots (interval: 5 min). The time point of germination is marked with a red triangle. The montage files are saved in an 'auxiliary' folder inside the project folder and are shown as virtual stacks.
Load Montages
Reloads both montage stacks virtually.
Mark Fluor. Peaks
Per object (spore), the maximum finder is applied on a temporarily smoothed stack slice. First, the most prominent fluorescent peak of all 36 snapshots is detected, which we call the "leader". Next, the history of the leader is recorded by marking and measuring the leader neighborhood in the other snapshots.

-
Batch (all above)
Performs sequentially all commands mentioned above. You may want to choose ObjectJ>Save Project to save the project file. Subsequently, the desired plots can be created (see below).
-
Plot All Peaks vs GTime
Plots intensities of all leader positions of all qualified spores

Map of Leaders
The Map of Leaders shows the fluorescence at the leader positions of the entire population during the entire time. Each leader profile is accommodated in one pixel row, rows are sorted for increasing germination time. Non-germinating spores and weak leaders are ignored. The map is shown in false color for better contrast. The vertical cyan line is the time point of germination. Additionally, a 'Collective Leader profile' is created, line is the time point of germination.

Plot Leader Peaks (Three Plots)

Plot Fluorescence at Leader pos vs time
creates a stack of plots, each showing the intensity of the leader position vs time.

Histogram Germinations

Navigation: With one of the montages in front, navigate through all spores with the chosen "view type" (see below).

Navigate To:>
-- Previous Object [1]
-- Next Object [2]
-- Current Object [3]
-- Object #... [3]

Utils>
-- Selected Object as Table [T] For the selected object, the string in the (hidden) "Phase" or "Spots" column is shown as formatted table.
-- Arrange [F2] Arranges windows montage windows on the screen
-- Test S-Curve applies S-curve fitting to bright-to-dark transition(only for test)

Choose View Type [5]
This command has effect on how data are displayed when using navigation shortcuts - the do not affect the results. You also can create a stack of surface prots for the current object.
Results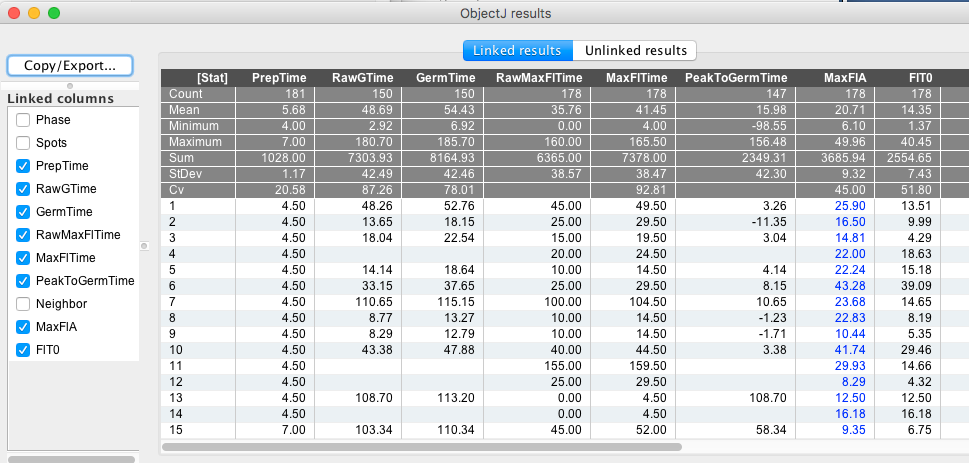 Fig 2: Each row in ObjectJ Results is linked to one individual spore
Meaning of ObjectJ column titles:
Phase: hidden text column for internal storage (phase contrast data)
Spot: hidden text column for internal storage (fluorescence data)
PrepTime: preparation time between treatment and movie start (min)
RawGTime: time point of germination with respect to movie start
GermTime: PrepTime + RawGTime
RawMaxFlTime: Time point of max fluorescence with respect to movie start
MaxFlTime: PrepTime + RawMaxFlTime
PeakToGermTime: Time from maximum peak until germination (can be negative)
Neighbor: Contour-to-contour distance to closest neighbor (µm, hidden)
MaxFlA: Integrated fluorescence of maximum peak (= leader)
FlT0: Integrated fluorescence at leader position at t=0 (first frame)