ObjectJ Roi Counter
Norbert Vischer
University of Amsterdam
16-jul-2014
ObjectJ RoiCounter is a simple example for manual marking of differrent roi categories.
Features:
- Use keys 1..3 to mark different roi categories (extendible)
- Pistol tool for deleting markers and related results
- Mark many images or (hyper)stacks using a single project file
- No duplicates of images and no additional files are created
- Mark TIF or non-TIF files
- Adjustable names and marker types
In this example, we use three marker names Type1,Type2,Type3
for marking Blob outlines.
The linked ObjectJ Results table uses separate columns for each type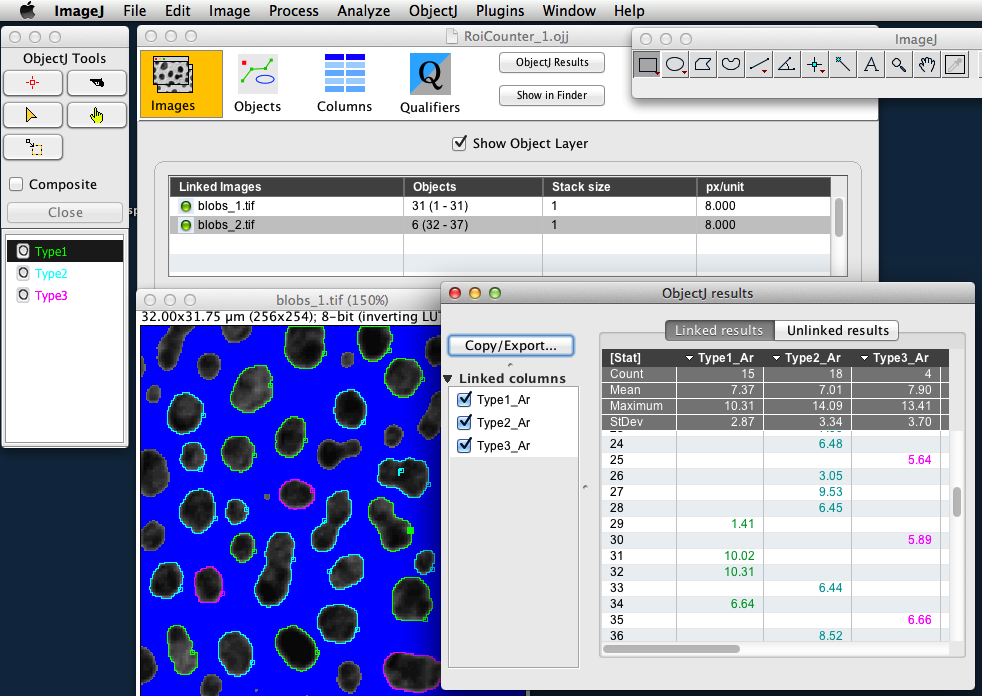 ---
A. Installation of ImageJ and ObjectJ:
If not yet done, install ImageJ from: http://imagej.nih.gov/ij/

If the ObjectJ plugin is already installed (i.e. visible under menu Plugins), jump to (4).
Otherwise, you can install ObjectJ as follows:
In ImageJ, choose menu File> Import> URL... and type:
simon.bio.uva.nl/objectj/download/current/objectj_.jar

ImageJ then fetches objectj_.jar and suggests to store it in the plugins folder.
Confirm by clicking the Save button, Quit and Relaunch ImageJ.

You can choose Plugins> ObjectJ to make the ObjectJ menu visible (see below),
but opening a project file with extension: .ojj will also insert this menu.
---

B. Run the Demo Project:
Download and unpack the demo project from:
http://simon.bio.uva.nl/objectj/examples/RoiCounter/download
It includes a project file (ending with .ojj) and two 'Blob' images for demonstration.

Open file RoiCounter.ojj by dragging it into the ImageJ main window (or use File> Open..)

If the ObjectJ menu was not visible yet, it should appear now.
The ObjectJ project window (see fig) indicates two linked images (blob_1.tif and blob_2.tif).
Double click e.g. on blob_1.tif to open this image for further marking.

This project contains embedded macros that appear under the ObjectJ menu:
Use the following three commands by locating the cursor above a thresholded particle,
then press one of the shortcut keys without clicking the mouse.
The macro will perform auto-outline (just as the wand would do), and converts the roi into a roi object of the desired type.
ObjectJ> Type1 [1] auto-outlines and converts roi into a "Type1" object
ObjectJ> Type2 [2] auto-outlines and converts roi into a "Type2" object
ObjectJ> Type3 [3] auto-outlines and converts roi into a "Type3" object
In all three cases, the results (area) are updated automatically.
ObjectJ> Toggle Labels [L] Shows or hides suffix overlay next to markers in front image (here: 1, 2 or 3). This may be handy if the project is extended to many types and colors are not enough to identify.
ObjectJ> Create Results Creates for each type (here 3) columns for areas (once they are created, you can use ObjectJ>Show ObjectJ Results)
ObjectJ> Choose Pistol [P] shortcut to select the pistol tool in the ObjectJ Tools for deleting objects
In Project Window> Objects Panel you can show/hide numerical labels so the don't interfere with overlay text.

Choose ObjectJ> Save Project to save the .ojj project file. You don't need to save any images.
---
C. Modify this project for your needs:
Add a category:
Choose ObjectJ> Show Project Window and select the Objects panel.
Here you can modify names and appearance your item types.
Use Show Object Label to show/hide numerical labels.
Add one more object type (e.g. name = Type4; Item shape = Roi; color = orange)
choose ObjectJ> Show embedded Macros and extend the color list to:
itemColors= split("green cyan magenta orange"),

and add one more macro:
macro "Mark Type4 [4] " {    
    doMark("Type4");  
}

Click button Install in ObjectJ Menu, and save the project via ObjectJ> Save Project